Announcing #DIF2020 Festival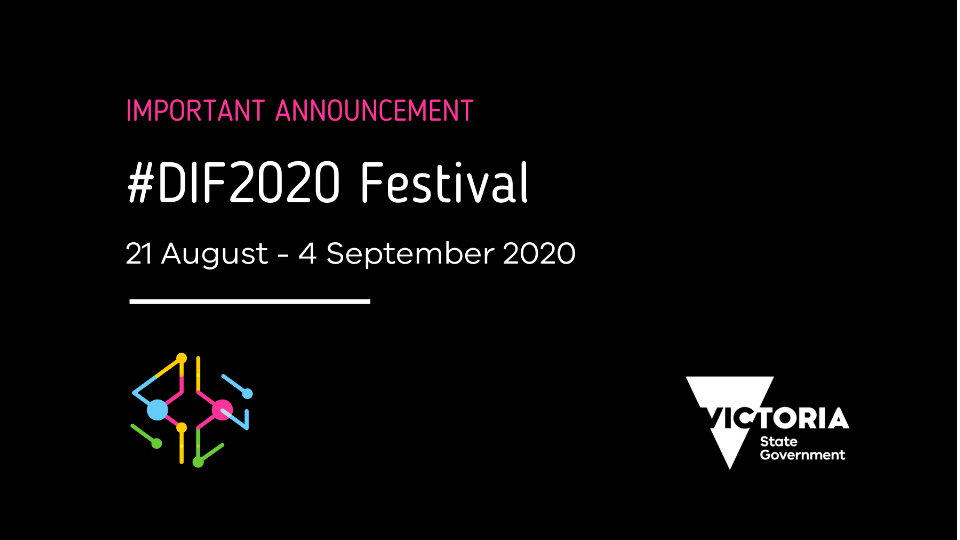 We're delighted to announce the Digital Innovation Festival #DIF2020 will run virtually state-wide from 21 August to 4 September.
The #DIF2020 Festival offers something for everyone from exploring emerging tech to learning about jobs of the future or how digital inclusion can make a difference for communities.
Our team has been hard at work adapting and innovating this year's #DIF2020 Festival program to work virtually, giving all Victorians the chance to get involved in our program. There are already events being planned, and we encourage you to get involved and make the DIF.
Likewise, our DIF Community are digital innovators, and we know they are excited to explore options for virtual, remote, online or hybrid events. Just check out what they've been up to lately on this very site hosting online meetups, webinars even whole virtual conference. Together we are sure to develop creative ways to connect, share ideas and keep learning.
The challenge moving forward will be to ensure events are in line with restrictions put in place to slow the spread of coronavirus. Information about the easing of restrictions on entertainment activities in concert venues, theatres and auditoriums is available on the DHHS Coronavirus website and will guide our program development
In the meantime, thank you. There's a lot to be proud of. But there's still a way to go. Restrictions have been eased, but limiting our movement everyday means everything. It means we slow the spread of the virus. We all have a part to play. It's up to all of us to make this work.