2020 Victorian State iAwards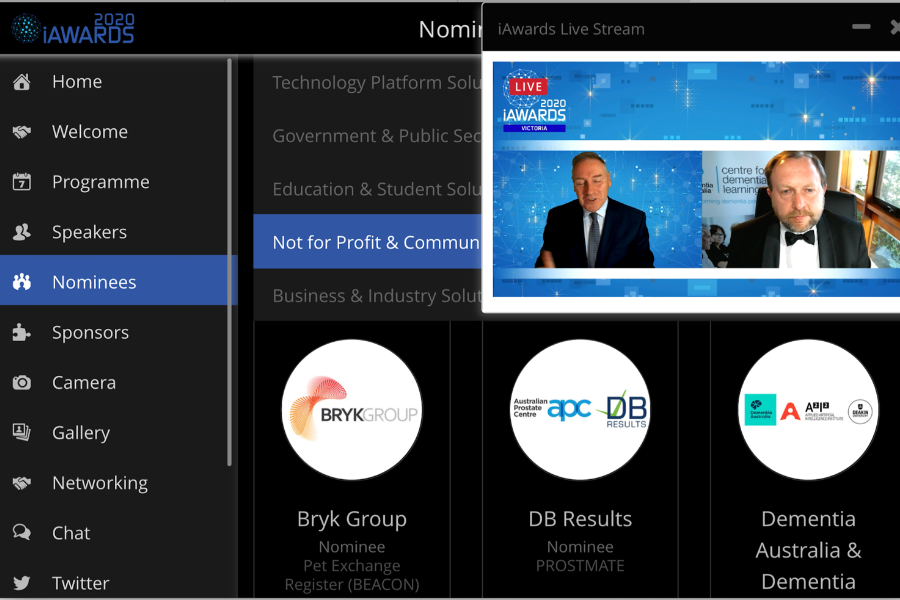 On Monday 12 October 2020 the winners of the Victorian State iAwards were announced at a virtual online event that brought together people in the digital tech and ICT sector from across the state.
Winners highlighted the great talent here in Victoria, driving innovation across the economy, in health, construction, communication, business - with recipients from academia, startups, industry, not for profits and government.
State Winners
Technology Platform Solution of the Year: Byrk Group

Government and Public Sector Solution of the Year: NBN Co, CSIRO Data 61 and Data Science Institute at the University of Technology Sydney

Education and Student Solution of the Year: Steve Crossin and team

Not for Profit and Community Solution of the Year: Dementia Australia and Applied Artificial Intelligence Institute

Startup of the Year: Ynomia

Business and Industry Solution of the Year: Fred IT Group P/L
Celebrating Victorian innovators
Minister for innovation, Medical Research and Digital Economy, Hon. Jaala Pulford, opened the awards on the new virtual platform noting:
"These awards celebrate our talented technologists and innovators who have played a huge role in connecting Victorians to each other and keeping our economy moving".
Congratulations to the winners who progress to the National iAwards next month, for which there is also the $10,000 Victorian Government Inspiration Award for the most outstanding commercial innovation entry.
Melbourne home to iAwards
Since 2008, the Victorian Government, through the Innovation, Digital and Bio Economy branch (IDBE) has been proud to support the iAwards, the nation's leading ICT and digital technology awards program, and to host the national iAwards here in Melbourne.
The awards are managed by the Australian Information Industries Association (AIIA) which in 2019 established its national headquarters in Melbourne from Sydney, strengthening our position as the centre of Australia's digital tech industry.
For more details refer to the AIIA media release.