Inside the DIF: Future Focused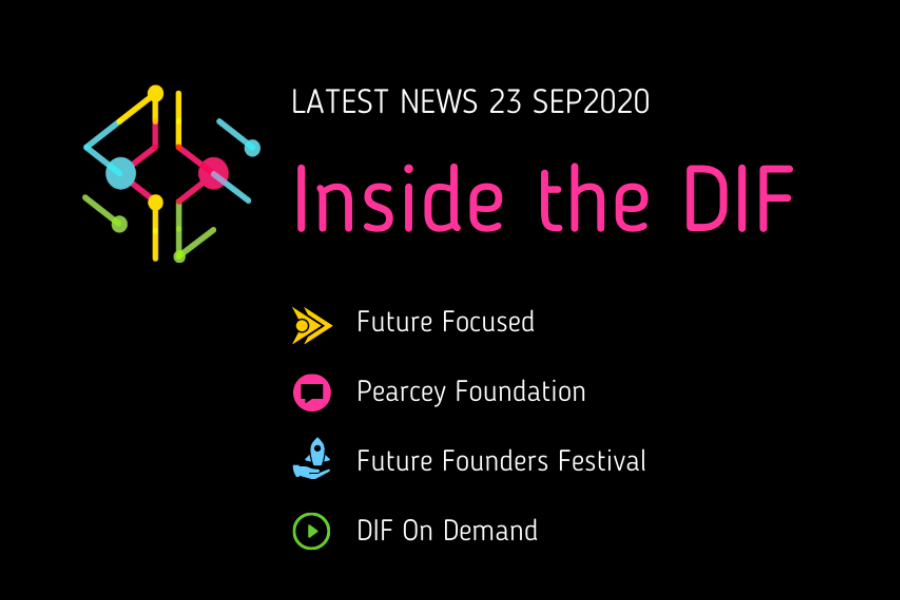 Focused on the Future
In a challenging year, DIF encouraged Victorians to think positively about our capabilities, our strengths and our future across all areas of technology. The 2020 Digital Innovation Festival bought a new spirit of optimism with hundreds of speakers and partners sharing their stories. We encourage everyone to keep the conversations going and explore the future together. DIF On Demand has 52 session focused on the future available now so tune in and be inspired.
DIF On Demand
Did you miss part of DIF2020 this year? Well you are in luck! There are over 80 On Demand events online and available for you to watch anytime until 31 Oct!
Featured DIF Event Partner
Annually the Pearcey Foundation hosts a series of events for the DIF Festival, bringing together industry, research, government and community sectors to address the big questions about the role of technology in the future of Australia. They also announce the Victorian Pearcey Entrepreneur of the Year and we congratulate the 2020 Awardee, Grant Petty, founder and CEO of Blackmagic Design. Now with DIF On Demand you can catch up on past Pearcey events not just from this year but right from the start of DIF in 2016!
2020 Pearcey Oration
John Blackburn AO on Resilience & Preparedness in an Age of Mistrust
Imagine the future! We must if we want it to be better than today. Are you an innovator, founder, investor, business operator, professional, student, politician, academic, tradesperson? Whatever your role in society, a better future needs your voice to do a better job of making our nation an integrated community with technology as a vital plank for persistent, adaptive resilience and self-reliance in a post-pandemic century. Hear the 2020 Pearcey Orator, John Blackburn AO, Air Vice-Marshal (Retd) and Chair of The Institute for Integrated Economic Research (IIER), explore the pertinent topic of resilience and the future.
Pearcey Institute
DIF 2020 Roundtable
"Can Australia be a technology-led economy post the 2020 Pandemic?" ask thought leaders from health, gov, industry and academia.
Scienceworks and Pearcey Foundation
"How might digital innovations support Victorians to adapt to change?" panel discussion to set the scene for 50 year 9 and 10 students!
Upcoming Events
Future Founders Festival
23-27 Sep
Australia's first online startup festival for international students, innovators and founders. Access a free, multi-day event by business leaders and entrepreneurs. Learn business design skills in a series of expert-led workshops, and join a vibrant community of business founders and emerging entrepreneurs. Don't miss this rare opportunity to start building your future startup career. Register today and get ready to be inspired.